Aeronca C-3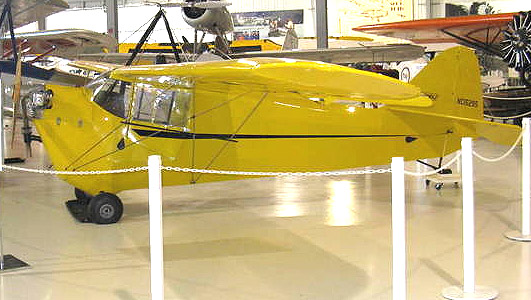 Aeronca, contracted from Aeronautical Corporation of America, located in Middletown, Ohio, is a US-manufacturer of engine components and airframe structures for commercial aviation and the defense industry. In the 1930s and 1940s, the company was a major producer of general aviation aircraft, and also produced the engines for some of their early designs. Aeronca has now become a division of Magellan Aerospace, producing aircraft, missile, and space vehicle components at the same location adjacent to Middletown's Hook Field.
The two-seat Aeronca C-3 was dubbed the "flying bathtub" because of its unusual fuselage shape. Following the successful C-2 Scout model, the C-3 Collegian was marketed as an all-weather convertible, with removable door and fold-down window. The Collegian, inexpensive to own and operate, was popular with sportsman pilots and required only 70 feet of runway to take off. Approximately 400 were produced.
The E-113C engine used on this aircraft has a single magneto ignition system. Later, Aeronca E-113CBD engines featured dual magnetos as required by the new safety standards of 1938. The engine consumes about three gallons of gas per hour at cruising speed (85% power). The fuselage is fabric-covered welded steel tubing and the wings are fabric-covered spruce.
It has dual control wheels. The Duplex was the open cockpit configuration and sold for $1,730; the Collegian was the enclosed version and sold for $1,790. For 1936, all C-3s were built with enclosed cockpits. Built by the Aeronautical Corp. of America at Lunken Airport, Cincinnati, Ohio.
Engine: Aeronca
Horsepower: 36 HP
Quantity Mfg: Unknown
Wingspan: 36'-0"
Length: 20'-0"
Top Speed: 80mph
Gross Weight: 875 lb
Ceiling: 14,000'
Go to YouTube to see a video
Click HERE for a detailed info PDF file on this aircraft