WACO CUC-1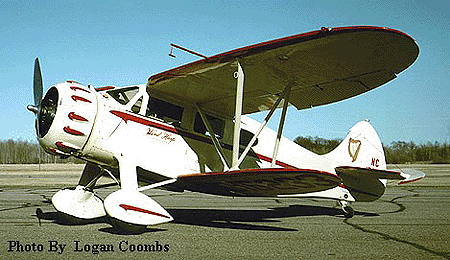 The CUC was a custom-built airplane manufactured to the tastes and dictates of customer. Each airplane was written up thoroughly beforehand to specify any custom interior treatment, the exterior finish, or addition of mechanical equipment, and no work was even started until a substantial deposit was received to make the order binding.
<![if !supportEmptyParas]> <![endif]>
As a consequence, the roster of CUC owners were generally wealthy and a cross-section of the biggest names in business. Afforded the best of care and usually pampered, the various CUC were certainly worth more than a casual glance and were usually surrounded by a ring of admirers wherever they went.
<![if !supportEmptyParas]> <![endif]>
This is one of two Waco CUC-1 in flying condition. The museum's CUC-1 is an Oshkosh winner and has been featured in calendars and appeared in the film "The Rocketeer".
<![if !supportEmptyParas]> <![endif]>
The CUC-1, with Wright R-760-E engine rated at 285 hp and using Hamilton-Standard controllable propeller, was identical to the CUC.
<![if !supportEmptyParas]> <![endif]>
Cruising Speed: 150 mph Range: 540 miles Price at the factory: $8,975
Click HERE for a detailed info PDF file on this aircraft